Add New Teeth-Healthy Traditions to Your Southwest Thanksgiving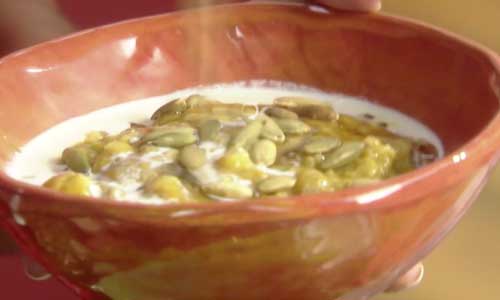 Thanksgiving brings friends and family together, which often means accommodating a variety of food tastes, diets, and cultures. Celebrate diversity and gratitude this year by adding some Southwest spice to the holiday that is good for your oral health.
Consider Calories
On average, Americans consume 4,500 calories at the Thanksgiving feast. When you consider that depending upon gender, age, height, weight, and activity level, caloric intake recommendations run between 2,200 and 2,700 calories, 4,500 isn't healthy by any standard. While it is tempting to not worry about calories on one day of the year, nutritional habits that lead to unhealthy weights should not be ignored. Although New Mexico's obesity rate is nearly 8 points lower than the national average, 28.3 percent of New Mexico's citizens still face a host of obesity-associated diseases including periodontal disease.
The good news is that you need not give up a fabulous feast or that turkey and gravy. You should, however include healthy options throughout the Thanksgiving Day to reduce calories, ensure nutritional value, and keep teeth healthy.
Breakfast
Thanksgiving mornings are busy in the kitchen, and most people don't have an extra oven for baking breakfast foods. Start the day off with heart-healthy pumpkin oatmeal topped with toasted pepitas. Because raisins can stick to teeth, chopping up a couple Fuji apples instead can make this recipe more teeth-friendly. Plus, with 11 grams of protein, your Thanksgiving crowd's hunger will be satisfied until you break out the appetizers.
Appetizers
Appetizers typically pack on the Thanksgiving Day calories. For heart and teeth health, always provide a healthy relish tray. Include raw jicama, carrots, celery, grape tomatoes, cauliflower, broccoli, green beans, and green and black olives. For a center dip offer a yogurt-based dip like Dukkah Spiced Yogurt Dip or any variety of hummus. Use low-fat yogurt to make the dip, and it will still be great and so much healthier.
Of course, in the Southwest, no appetizer selection is complete without some good guacamole. Since it's the holidays, dress up the guacamole with fresh mango and pomegranate for anti-oxidant zip. Serve with blue corn tortilla chips, which have 20% more protein than their white corn counterparts, less starch, and a lower glycemic index (GI), which is healthier for people with Type II diabetes. Look for the low-salt choices.
Salad
Don't forget to include a nice fall green salad for your Thanksgiving meal. Baby arugula, walnuts, pomegranate juice, pomegranate seeds, and fresh thyme are a nice complement to turkey and cranberry relish. And with olive oil and walnuts, you're offering healthy fats. Packed with nutrition, arugula gives you vitamin A, C, potassium and calcium for oral health.
Vegetable Sides
Sometimes simple is best. Get away from the heavy casserole vegetable dishes and simply spice up vegetables with flavor.
Black beans with corn and green chiles adds Southwest flare to the meal without a lot of fuss. Black beans are good for teeth, giving you per cup 46 milligrams of calcium and 611 milligrams of potassium. Calcium hardens tooth enamel, and potassium improves bone mineral density.
Oven Roasted Carrots. Carrots deliver vitamin A to keep your tooth enamel strong. Toss peeled carrots in olive oil, sprinkle with a bit of kosher salt and pepper, some Spanish smoked paprika, and bake.
Green Beans with Garlic. Instead of the heavy green bean casserole, try a lighter green bean fare. Cook them al dente, because they'll retain more of their vitamins and minerals like fluoride, a mineral that helps prevent tooth decay.
Turkey/Dressing
There are two sacred Thanksgiving food items that must be honored: turkey and dressing. For Southwest flavor, try: Chile and Spice Grilled Turkey. Brine the turkey overnight for the most tender, juicy bird that ever flapped its way to your table. Free range, organic birds are by far the healthiest but also the most expensive. Local grocers carry free-range/organic turkeys, but they can go quickly, so you will want to order ahead. For a locally sourced bird, try: La Montanita Coop.
Organic skinless white turkey meat is a great source of low-fat protein. (Yes, stay away from the skin.) Turkey provides iron, zinc, potassium, and phosphorus. Zinc helps fight against bacteria and plaque.
In the Southwest, dressing is understood to be cornbread dressing. Because dressing is starch, brush your teeth after dinner.
Relish
Cranberry relish is a critical side dish for Thanksgiving. Cranberries can prevent bacteria from binding to teeth and may be beneficial in preventing gum disease. The cranberry's oral health virtues earned it the moniker "super food" due to its antioxidant, nutrient, and disease preventive properties. The problem is, cranberries are a bit "puckery" to eat without sweetening them, so it's helpful to find cranberry recipes with less sugar. Here are some healthier cranberry relish alternatives to the heavy sugar recipes:
Naturally sweetened cranberry sauce, made with honey.
Healthy cranberry sauce, sweetened with apple sauce and honey.
Healthy cranberry sauce, sweetened with pineapple juice, orange juice, and 1 T of maple syrup. (Note that the acids in pineapple can be hard on your enamel, so brush after dinner.)
Pumpkin Pie
Thanksgiving isn't complete without a piece of pumpkin pie. While it is recognized as a healthier option among pies, here is a delicious way to reduce its sugar, cholesterol, and caloric liability: Skinny Pumpkin Pie. Your teeth won't mind, either. Pumpkin pie is full of Vitamin A, which promotes gum health and builds tooth enamel. Don't forget to brush afterward.
Drinks
Your best bet for oral health is water. Of course, during the holidays, alcohol is often served, and while there is no such thing as a healthy alcoholic drink, some are worse than others as far as your teeth go. If you're going to have a drink, here are some dental tips:
Do: Go with a less acidic and higher water content light beer or low-acid, non-staining gin and tonic.
Don't: Because of acid, don't have a whiskey and Coke, or start the day with a Bloody Mary. (If you have that Bloody Mary, eat the celery. It will clean your teeth some.)
Your enamel will thank you. And of course, if you plan to drink, make sure to have a designated driver.
Traditions Change Slowly
Creating new, healthier food traditions are good for friends and family. Aunt Gladys will still lovingly bring her green Jello salad with tiny colored marshmallows, and your neighbor will still bring the high-cholesterol Buffalo chicken wings that "must be dipped in sour cream ranch." That's okay. Traditions change slowly. Keep offering healthy, delicious options for the people you love.
Recent Posts
Contact Us
Davis Gribble Hollowwa Dental
3610 Calle Cuervo NW
Albuquerque, NM 87114